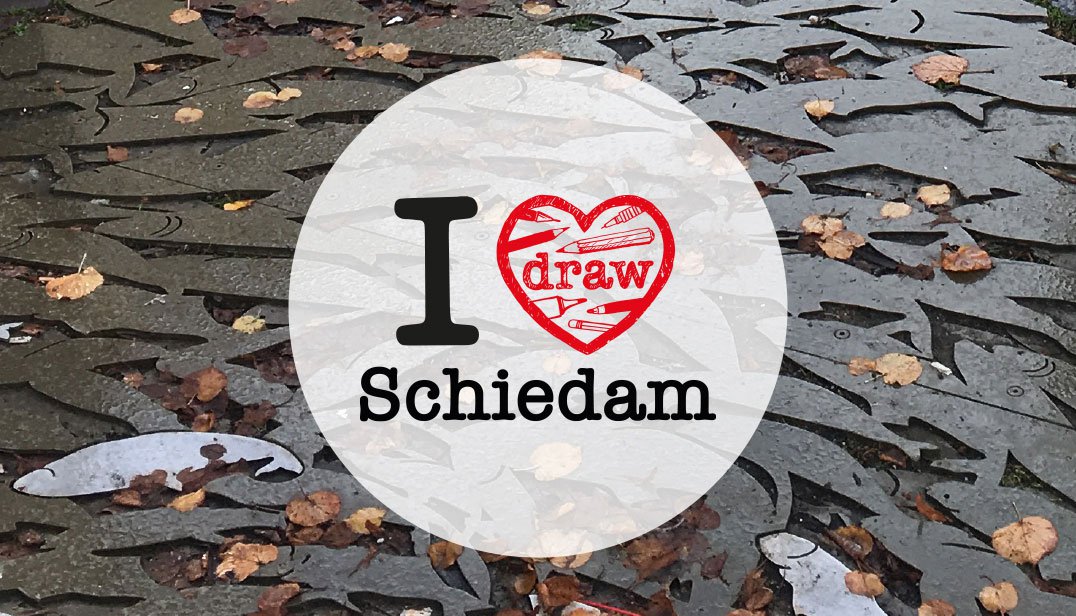 About this tour
Beschikbaar op zaterdagen van april t/m september. Andere dagen op aanvraag bespreekbaar.
Van 13:00 tot 15:30. Andere tijden op aanvraag bespreekbaar.
Suitable for every drawing level.
We draw quickly and easily.
We walk approximately 2.5 kilometers through the center.
We draw typical Schiedam elements such as windmills and gin glasses around a Polaroid photo of you.
Na een creatieve en ontspannen ochtend, heb je een grote, zelfgemaakte 'Groetjes-uit-Schiedam-ansichtkaart'.
Starting point
We meet on the red benches in front of the entrance to the Stedelijk Museum Schiedam.
The museum is located in the center of Schiedam at the Hoogstraat 112.
The starting point is close to Schiedam station (about a 15-minute walk) and also close to the De Nieuwe Passage parking garage (about a 5-minute walk).
You can safely leave your bicycle in the free bicycle shed at the station or in front of the museum.
About the guide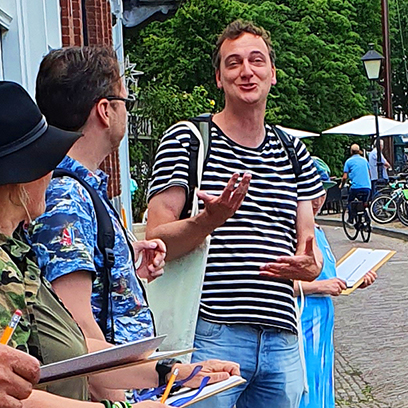 Jeffrey de Bruin
I love Rotterdam and Schiedam! I studied Graphic Design in Rotterdam and Drawing at the academy in Antwerp. I am the City sketcher of Rotterdam and have been designing and illustrating for more than 10 years.
Recommendations

Gerard
It was nice to explore the city with a group. No long stories that you'll forget by the end of the day. By drawing, you see better and the places will stay longer in your memory. It was very pleasant.

Miryam
I already knew Schiedam, but not in this way! We had a lot of fun drawing. And thanks to Jeffrey's explanation we could be proud of the result. It was a well arranged route that ended at a nice museum.

Hitomi
With Jeffrey's explanation and the clear examples he gives, everyone can make a nice memento of an afternoon in Schiedam. The Polaroid and hand lettering complete the postcard. I highly recommend this tour.
---
Private bookings
Groep van 4 personen: € 35,- p.p.
Groep van 5 tot 8 personen: € 31,50 p.p.
Groep van 8 tot 12 personen: € 28,- p.p.
De prijzen voor particuliere boekingen zijn inclusief btw en de prijzen voor zakelijke boekingen zijn exclusief btw.
Wil je met een grotere groep komen? Dat kan! Er komt dan een gids bij om te helpen. We denken graag mee over een lunch ervoor en een borrel of diner erna. Mail je wensen en budget naar rotterdam@idraw.eu en we maken je uitje op maat. Bellen kan ook: +31 (0) 651 882 626
Met de Rotterdampas krijg je 1x 25% korting. (Je betaald dan € 26,25 p.p. i.p.v. € 35,- p.p.) NB: Neem je Rotterdampas mee naar de tekentour.
Mail to rotterdam@idraw.eu om je gewenste datum en groepsgrootte door te geven.
If you have an AirBnB account, you can also book via this calendar: