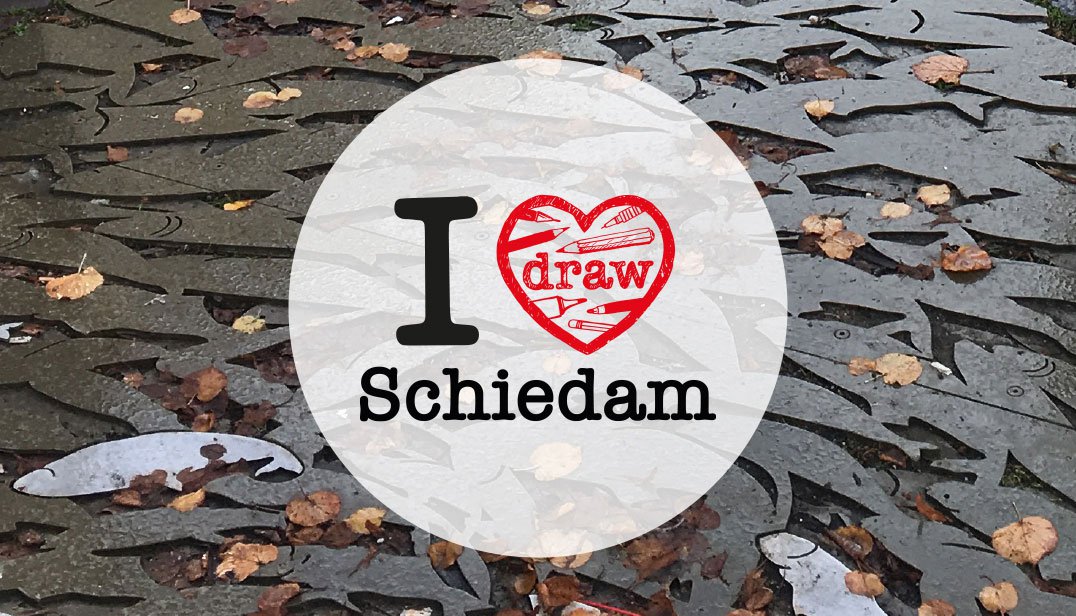 About this tour
Suitable for every drawing level.
Guidance in Dutch and English.
We draw simple and fast.
We walk approximately 2.5 kilometers through the center.
We start with a Polaroid of yours and place it in the middle of a sheet of A4 size paper.
Around the Polaroid we draw typical items from Schiedam such as: windmills, gin glasses, fish, ornaments, images of burner men, bicycles and decorative elements from nature.
I give a demo "Handlettering" (writing in a nice way).
After a creative, pleasant and relaxed afternoon, you have your own personal large "Greetings from Schiedam postcard".
You can save the postcard, post it in the mailbox and / or post it on social media.
Starting point I draw Schiedam
We meet on the red benches in front of the entrance of the Stedelijk Museum Schiedam.
The museum is located in the center of Schiedam at the Hoogstraat 112.
The starting point is close to Schiedam station (about 15 minutes 'walk) and also close to De Nieuwe Passage parking garage (about 5 minutes' walk).
You can safely leave your bicycle in the free bicycle shed at the station or in front of the museum.
About the guide

Jeffrey de Bruin
I love Rotterdam! I studied graphic design in Rotterdam and drawing at the art academy in Antwerp. I am the City sketcher of Rotterdam and have been illustrating for more than 10 years.
Recommendations

Gerard
It was nice to explore the city with a group. No long stories that you'll forget by the end of the day. By drawing, you see better and the places will stay longer in your memory. It was very pleasant.

Miryam
I already knew Schiedam, but not in this way! We had a lot of fun drawing. And thanks to Jeffrey's explanation we could be proud of the result. It was a well arranged route that ended at a nice museum.

Hitomi
With Jeffrey's explanation and the clear examples he gives, everyone can make a nice memento of an afternoon in Schiedam. The Polaroid and hand lettering complete the postcard. I highly recommend this tour.
---
Private bookings with AirBnB
€ 35 per person including VAT
With Airbnb you can book in a super simple and fast way. You can read more reviews from previous guests. Airbnb will send a reminder a day before the drawing tour starts. You can easily keep in touch with your guide (Myra) and any other guests. You can leave a review afterwards.
Note the group discounts:
A group of 4 to 5 people will receive a 10% discount (€ 31.50 p.p.). A group of 6 to 8 people will receive a 20% discount (€ 28 p.p.).
(You do not have or want an Airbnb account? Do a business booking with Jeffrey).
Choose a date below to see the availability.
Business bookings with Jeffrey
€ 35 per person excluding VAT
Book with Jeffrey if you organize a business outing, you will receive an invoice by email with 21% VAT.
The drawing tours are given from July to September, every Saturday from 1:00 PM to 3:30 PM.
You can also e-mail us to arrange a different date.
Mail or Whatts app to book.
E-mail address: schiedam@idraw.eu
Phone number: +31 (0) 651 882 626