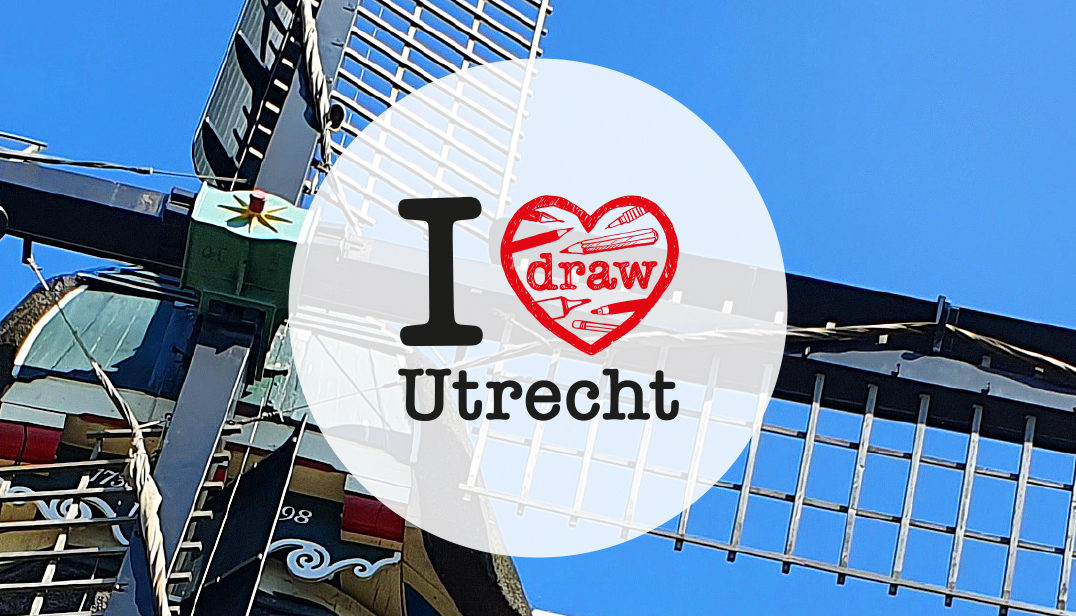 About this tour
Beschikbaar op zaterdagen van april t/m september. Andere dagen op aanvraag bespreekbaar.
Van 9:30 tot 12:00. Andere tijden op aanvraag bespreekbaar.
Geschikt voor elk tekenniveau en ook voor kinderfeestjes!
We draw simple and fast.
We lopen ongeveer 2,5 kilometer door de wijk Lombok.
Rondom een Polaroid foto van jou tekenen we typische Utrechtse items zoals: Molen de Ster en ornamenten van de Koninklijke Nederlandse Munt.
Na een creatieve en ontspannen ochtend heb je een zelfgemaakte, grote 'Groetjes-uit-Utrecht-ansichtkaart'.
Tip: this tour can be combined with a lunch, drink or cake at Molen de Ster.
Starting point
When you travel by bike, you can park your bike next to the mill (against the wooden racks).
Travel by car? You can park your car in one of the streets near the mill, it's paid parking.
If you travel by public transport, it is about an 8-minute walk. From the station hall of Utrecht Central, walk towards Jaarbeursplein. You take the big stairs down (or the elevator) and immediately keep right. You walk past "Metro City Kitchen" restaurant and past the NH hotel. Then cross the road "Westplein". Turn left and cross the "Damstraat". Walk on the footpath along the water and ATTENTION! keep the water on your left. At the end of the footpath is a small bridge that takes you to the yard of the mill.
About the guide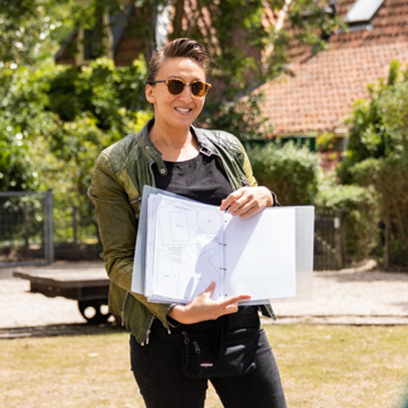 Myra Manintveld
I have been living in Utrecht for more than 20 years with great pleasure. I want to show you this beautiful and fun city by drawing elements from this city. I am a graphic designer and I love drawing, painting, hand lettering, photography and styling.
Recommendations

Joyce
This tour was nice, a gift for yourself and others. Cozy and relaxed. Myra has chosen a nice route with nice drawing spots, fun facts and useful drawing tips. The drawing supplies bag also contained tasty snacks for on the go, Myra has thought of everything. I came home with an empty head and a nice homemade keepsake of a great afternoon!

Karien
This drawing tour keeps you busy but makes you feel relaxed at the same time. You will discover new parts of Utrecht in a fun, creative way. The setup of the tour and the guide make you feel comfortable, even if it's been ages since you made your last drawing.

Willemijn
Myra gave an incredibly fun and interesting workshop, in which I learned how beautiful and special my living district actually is! A filled bag and a nice drawing tour make it worthwhile.
---
Prijzen
Groep van 4 personen: € 35,- p.p.
Groep van 5 tot 8 personen: € 31,50 p.p.
Groep van 8 tot 12 personen: € 28,- p.p.
De prijzen voor particuliere boekingen zijn inclusief btw en de prijzen voor zakelijke boekingen zijn exclusief btw.
Wil je met een grotere groep komen? Dat kan! Er komt dan een gids bij om te helpen. We denken graag mee over een lunch ervoor en een borrel of diner erna. Mail je wensen en budget naar utrecht@idraw.eu en we maken je uitje op maat. Bellen kan ook: 06 – 41181378
Voor kinderfeestjes heb ik een kortere route ontwikkeld en houd ik de volgende prijzen aan:
Groep van 4 kinderen: € 25,- p.p.
Groep van 5 tot 8 kinderen: € 22,50 p.p.
Groep van 8 tot 12 kinderen: € 20,- p.p.
There must be at least 2 other adults on the drawing tour due to the safety. The age of the children is between 8 and 14 years.
Met de U-pas krijg je 1x 25% korting. (Je betaald dan € 26,25 p.p. i.p.v. € 35,- p.p.) Je kan ook uit je U-pas tegoed betalen. NB: Neem je U-pas mee naar de tekentour.
Mail to utrecht@idraw.eu om je gewenste datum en groepsgrootte door te geven.