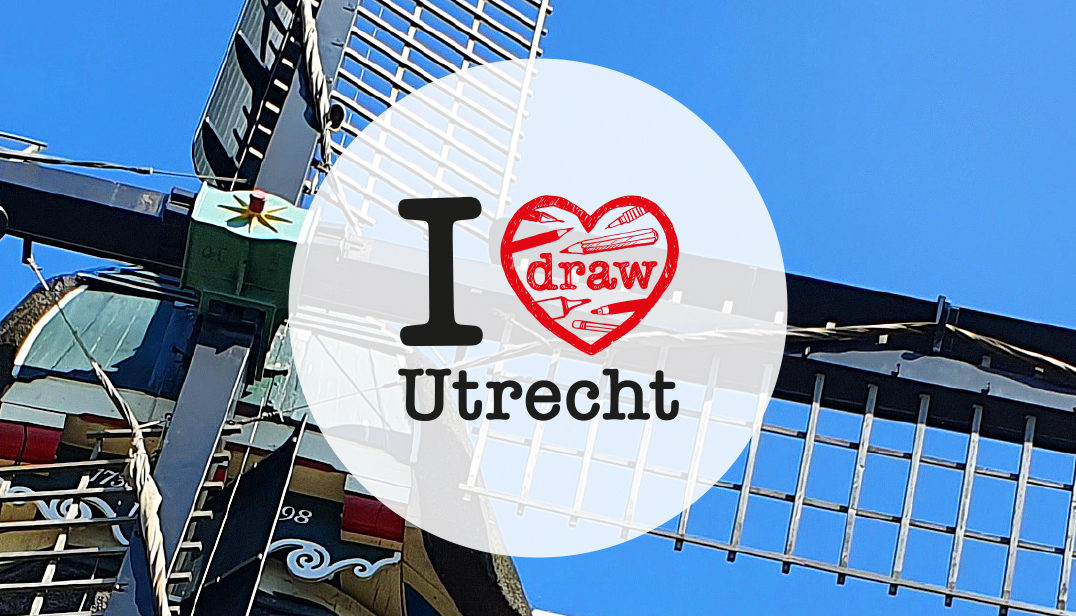 About this tour
Available every Friday morning from 9:30 am to 12:00 pm from June 11 to October 31, 2021 (except July 2, August 6, 13 and 20) Other dates are possible to plan for groups of 4 people or more. If you prefer to do a drawing tour during the weekend, book

the tour through the center of Utrecht,

I give these every Saturday morning.
Suitable for every drawing level.
Guidance in Dutch and English.
We draw simple and fast.
We walk approximately 2.5 kilometers through district Lombok.
We start with a Polaroid of yours and place it in the middle of a sheet of A4 size paper.
Around the Polaroid photo we draw typical items from Utrecht, such as the mill, architectural ornaments of monuments, bicycles, decorative elements from nature, etc.
After a creative, pleasant and relaxed afternoon, you have your own personal large "Greetings from Utrecht postcard".
Starting point
When you travel by bike, you can park your bike next to the mill (against the wooden racks).
Travel by car? You can park your car in one of the streets near the mill, it's paid parking.
If you travel by public transport, it is about an 8-minute walk. From the station hall of Utrecht Central, walk towards Jaarbeursplein. You take the big stairs down (or the elevator) and immediately keep right. You walk past "Metro City Kitchen" restaurant and past the NH hotel. Then cross the road "Westplein". Turn left and cross the "Damstraat". Walk on the footpath along the water and ATTENTION! keep the water on your left. At the end of the footpath is a small bridge that takes you to the yard of the mill.
Corona measures
We are outside and keep 1.5 meters distance.
All snacks are prepackaged.
Disinfectant hand gel and masks are available.
We ask you to go to the toilet in advance at home.
Each participant receives his own drawing material.
Bring your own drinking bottle.
If you don't feel well, you stay at home and you can participate another time.
About the guide

Myra Manintveld
With great pleasure I live in Utrecht for more than 20 years. I love Utrecht! I want to show you this beautiful and fun city by drawing elements from this city. I am a graphic designer and I love drawing, painting, hand lettering, photography and styling.
Recommendations

Joyce
This tour was nice, a gift for yourself and others. Cozy and relaxed. Myra has chosen a nice route with nice drawing spots, fun facts and useful drawing tips. The drawing supplies bag also contained tasty snacks for on the go, Myra has thought of everything. I came home with an empty head and a nice homemade keepsake of a great afternoon!

Karien
This drawing tour keeps you busy but makes you feel relaxed at the same time. You will discover new parts of Utrecht in a fun, creative way. The setup of the tour and the guide make you feel comfortable, even if it's been ages since you made your last drawing.

Willemijn
Myra gave an incredibly fun and interesting workshop, in which I learned how beautiful and special my living district actually is! A filled bag and a nice drawing tour make it worthwhile.
---
Private bookings
€ 35 p.p. including VAT
Come and discover Utrecht by drawing with your partner, family, friends, neighbors, and anyone else! You pay € 35 per person. Groups of 4 to 5 people receive a 10% discount (€ 31.50 p.p.). Groups of 6 to 8 people receive a 20% discount (€ 28 p.p.).
Book by email:
utrecht@idraw.eu
Book by phone:
+31 (0) 641 181 378
If you have an AirBnB account, you can also book via this calendar:
Business bookings
€ 35 p.p. excluding VAT
Would you like to go on an original and relaxed business trip with colleagues? Then book an I draw Utrecht tour, if you want I will mail an invoice with VAT.
Book by email:
utrecht@idraw.eu
Book by phone:
+31 (0) 641 181 378
U-pas
€ 26,25 p.p. including VAT
With 'U-pas' you get 1x 25% discount on the drawing tour. (You then pay € 26.25 instead of € 35 p.p.)
You can also pay with credits from your 'U-pas'.
Book by email:
utrecht@idraw.eu
(mention "U-pas booking")
Book by phone:
+31 (0) 641 181 378
NB: Bring your 'U-pas'.