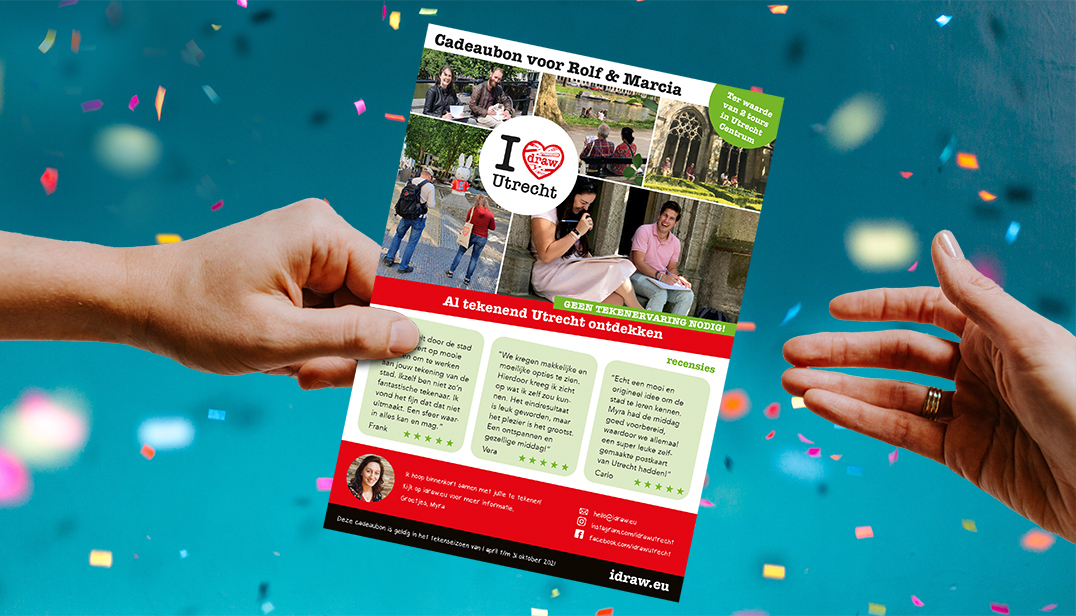 Bestel een cadeaubon vóór 20 juni 2021 en krijg 25% korting. Je betaalt dan € 26,25 i.p.v. € 35,00 per persoon per tour. Een origineel Vaderdagcadeau! Je geeft een ontspannen en creatief uitje dat je veilig buiten en samen kunt ondernemen. Bestel de cadeaubon met korting door een mailtje te sturen naar hello@idraw.eu. Laat weten voor wie de cadeaubon is en we maken een gepersonaliseerde digitale cadeaubon die je eventueel zelf kan uitprinten. De cadeaubon is dit tekenseizoen geldig en deze loopt t/m 31 oktober 2021.
Recommendations

Willemijn
Myra gave an incredibly fun and interesting workshop, in which I learned how beautiful and special my living district actually is! A filled bag and a nice drawing tour make it worthwhile.

Gerard
It was nice to explore the city with a group. No long stories that you'll forget by the end of the day. By drawing, you see better and the places will stay longer in your memory. It was very pleasant.

Karien
This drawing tour keeps you busy but makes you feel relaxed at the same time. You will discover new parts of Utrecht in a fun, creative way. The setup of the tour and the guide make you feel comfortable, even if it's been ages since you made your last drawing.
---